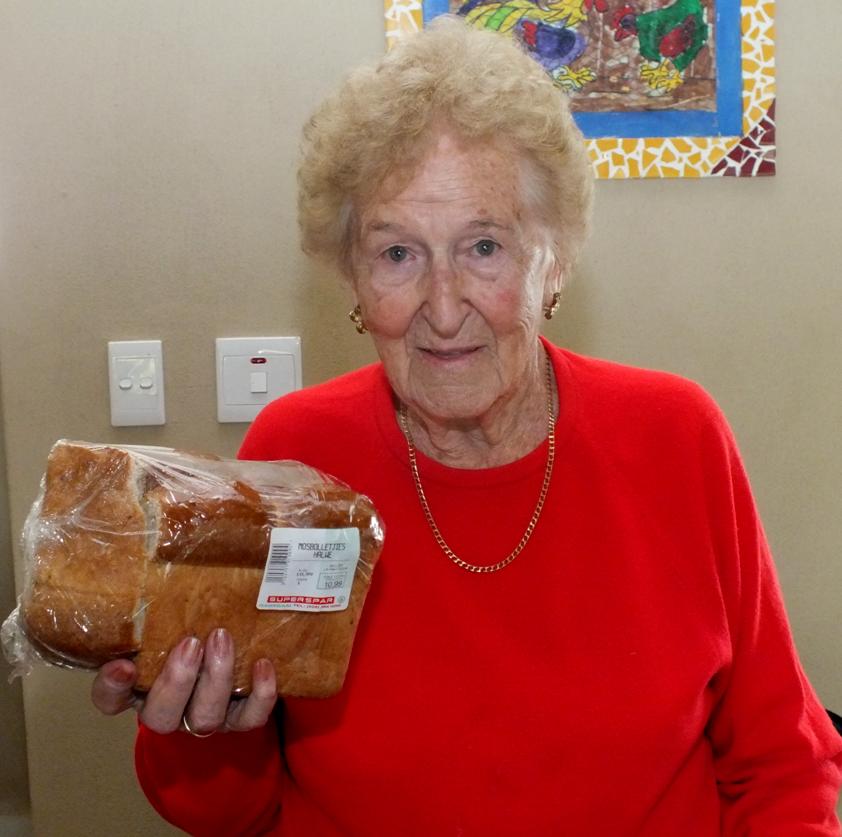 "Watwou bedlêend, ek het so pas in Gansbaai Superspar saam met my skoondogter rondgeloop - sonder 'n kierie of 'n rolstoel," sê Tannie Mick Viviers van Franskraal wat bykans 99 jaar 'jonk' is
Om só blakend gesond te wees, met só 'n pragtige voorkoms wanneer mens eersdaags 99 jaar oud word, kan net as 'n baie groot voorreg beskryf word.
Anna Viviers, of te wel Tannie Mick, is op 17 Maart 1915 in Potchefstroom gebore en sal eerskomende Maandag die ouderdomskerf van 99 verbysteek.
Haar nooiensvan is Mitchell, vandaar die noemnaam 'Mick'. Sy en haar oorlede man is op 13 Desember 1941 in die huwelik bevestig, maar hy het haar reeds in 1991 ontval. Die egpaar het een seun, Jan Viviers (70), getroud met Lulu wat in Franskraal woon, asook 'n dogter, Anita (57), getroud met André Louw en hulle woon in Somerset-Wes. Dan spog Tannie Mick met 3 kleinkinders en 7 agterkleinkinders. Sedert 1993 het sy in Somerset-Wes gewoon, maar het sowat 2 maande gelede saam met Jan en Lulu na Franskraal verhuis.
Tannie Mick en haar oorlede eggenoot het onder andere vir baie jare in die voormalige Noord-Rhodesië (nou Zambië) gewoon waar hy gewerk het. "Ek was maar al die jare aan 'n administratiewe beroepslewe gekoppel, maar is steeds baie lief vir handwerk, naaldwerk en kosmaak," vertel sy. Dit is "stokperdjies" wat sy steeds op hierdie ouderdom met groot gemak beoefen. Veral haar geraamde tapiserie-werke, wat sy haarself steeds mee besig hou en wat teen die mure pryk, is pragtige bewyse van haar kunstigheid. In die kombuis oortref sy haarself nog steeds met kosmaak. Met die stilhou voor die woning in Franskraal was dit duidelik dat haar twee wit toy poms hondjies (dwergkese), Penny en Jonty, haar gunsteling "kinders" is.
Gansbaai Courant se Redaksie wens graag vir Tannie Mick byvoorbaat geluk met haar 99ste verjaardag eerskomende Maandag, 17 Maart 2014 en sien uit na 'n onderhoud met haar op haar 100ste verjaardag volgende jaar.
Hardus Botha