Birthday greetings to the following :
ER Burger (18); Callie van der Merwe (21); Eric Haxton op die 23ste (een van ons beste ondersteuners van die klub), JP Janse van Rensburg (23); Senekal Dreyer (24); Martie Victor (26) en AB van Wyk (28).
GHOLFUITSLAE: Sloegters Woensdag 9 April
1. J Thompson 42
2. Stella Swart 39 Welkom terug Stella!!
3. G Hunt 38
4. C Bent 38
5. R Woods 36
6. R Jerrard 36
Spog twees: A Roos en Charlie Bent (2). Naaste aan die penne C Bent; G Hunt en D van der Merwe.
Vrydag Hoenderkompetisie 11 April
1. Leon Hattingh 23
2. G Hunt 23
3. J Stander 19
4. R Woods 19
5 & 6. J Nell en Charlie Bent
Saterdag Ind. Punte 12 April
Naaste aan die penne: J Coetzee en Piet le Roux.
Spog twee: P le Roux
1. J Thompson 40
2. M Bury 38
3. J Brandt 38
4. J Cesare 38
5. J le Roux 37
6. Stella Swart 36
ONTHOU DIE VOLGENDE STEAK-AAND 2 MEI EN OP DIE DERDE MEI 'N SPONSERDAG DEUR HARRIS ELECTRIX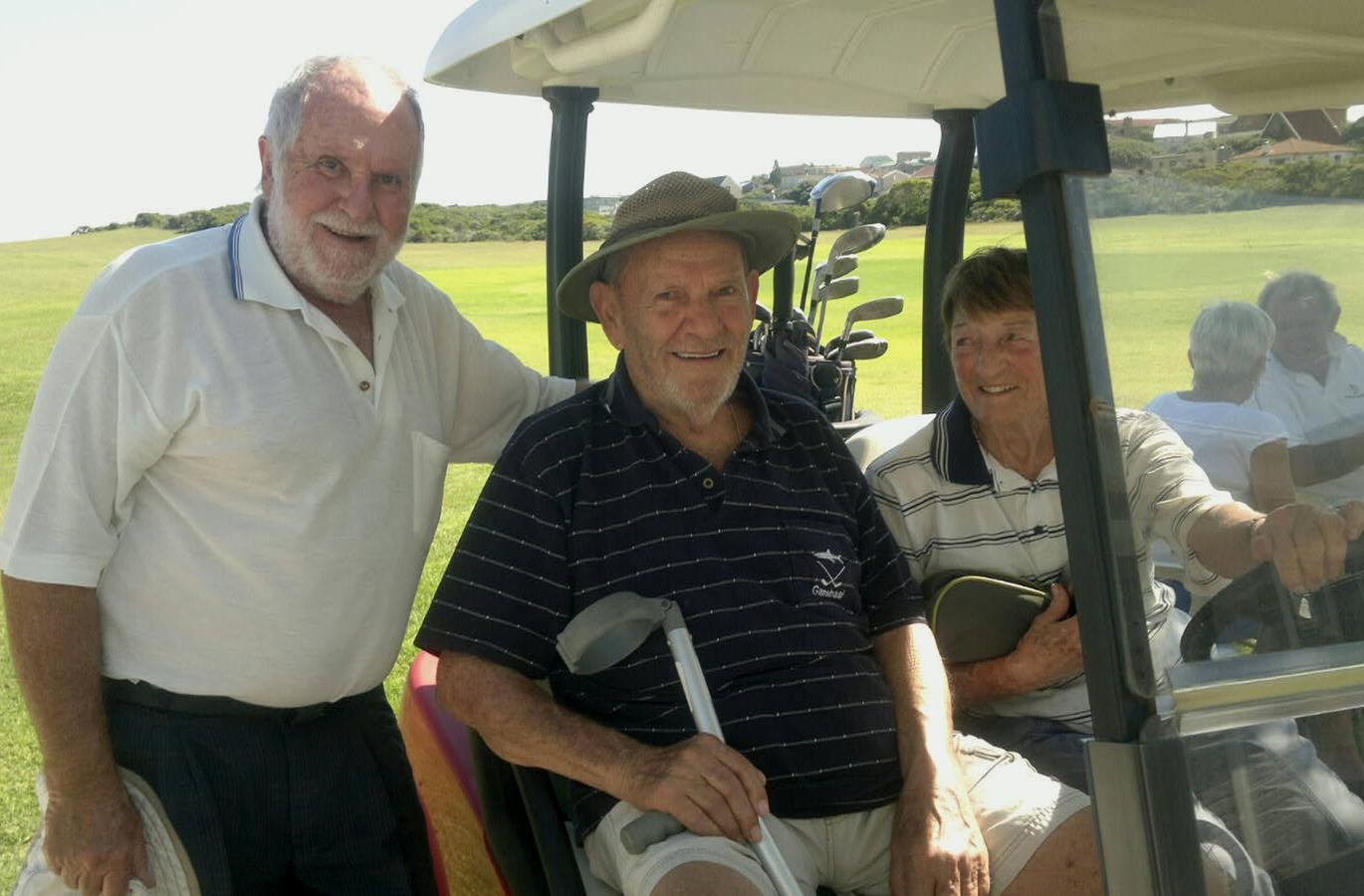 What a pleasure it was to see Norman Fischer in a golfcar. Although he did not play he joined June Rahn for nine holes driving in the fresh air. He has had two big heart operations and we all could see that after his outing he was very tired. The heat during the day also contributed towards this. He was President and Captain of the club for many years and we all miss his dry sense of humour. With him is Robert Gerrard and June Rhan. We wish him more outings like this.
GANSBAAI Gholfklub / Golf Club
Tel: 028 384 1441 Fax: 028 384 1225
E-mail: gbgholf@gmail.com