This week saw the implementation of the Gansbaai Holiday Programme, which is designed to keep children socially engaged and healthy through sport and physical activity.The Absa-sponsored Holiday Programme takes place every school holiday, and is run by the Overstrand Municipality & Football Foundation.Taking place on the Gansbaai'Spaces for Sports' fields, the programme ran from Monday to Thursday, 9.00am till 1.00pm. An average of two hundred children attended the programme each day, coming from Masakhane, Blompark and De Kelders.
The children enjoyed a variety of different sports activities, taking part in games engineered by our experienced coaches here in Gansbaai and Hermanusand assisted by our international volunteers from England, Germany and Luxembourg. The children were then treated to a packed lunch at the end of a productive morning of exercise and recreation.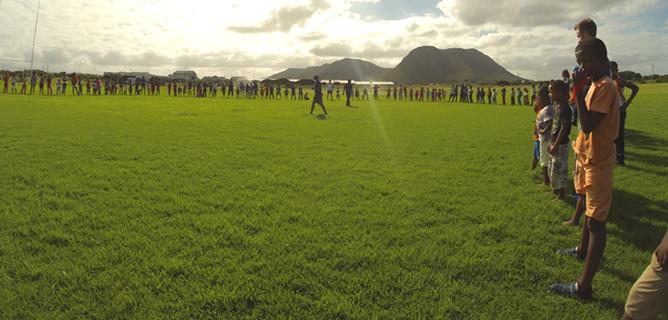 The holiday programme gave children, who are currently off from school, the opportunity to engage in sport and physical activity. FFSA volunteer Ryan Foster said that "the programme is clearly appreciated by the children as we are seeing the same children today [Thursday] as we were on Monday, they keep coming back for more, and with smiles on their faces too'. FFSA Intern Mark Johnson noted "without this programme the children are often left to their own devices during the majority of the day until their parents return home from work. Because of this, they have a higher chance of being exposed to undesirable behaviors such as drugs, alcohol, risky sexual behavior, etc. Here at our Holiday Programmes they are not only exercising and improving their health, but laughing and making friends too'.
Joe Manns