'n Gesellige aandjie met 'n panfluitspeler, Hendrik Britz en 'n begaafde sangeres, Miranda Oberholzer, is onlangs op kort kennisgewing gereël. Hierdie twee pragtige jongmense is ou kennisse van Pieter van der Merwe van Kleinbaai. Hulle het kom kuier en Pieter het spontaan besluit om vinnig 'n groep vriende vir 'n huiskonsert bymekaar te kry.
Marc en Alice Brindeau van Franskraal het hul ruim woning beskikbaar gestel en verversings is inderhaas gereël.
Hendrik, wat doof in sy regteroor is, speel reeds van kleins af klavier. "Maar toe ek op 15-jarige ouderdom na die fantastiese klanke van 'n panfluit luister, het ek besluit dat dít is wat ek wil doen." Miranda het vir Hendrik tydens 'n musiekfees ontmoet en ná 6 jaar tree hulle steeds saam op. Altwee van hulle skryf musiek en werk ook aan hul onderskeie musiekalbums. Sterk Christelike agtergrond het duidelik tydens hulle optrede na vore getree en letterlik uit hulle gestraal. "Ek het oom Pieter jare gelede in Pretoria by sy musiekskool ontmoet. Ek wil 'n spesiale dankie aan hom opdra vir die saadjie wat hy destyds in my geplant het. Ek glo hy kan vandag die vrugte van daardie saadjie in my sien," het Hendrik gesê. Hulle het die byeenkoms met die bekende Charriots of Fire se Afrikaanse weergawe van Jan de Wet geopen…Hendrik met die panfluit en Miranda met haar bekoorlike sang.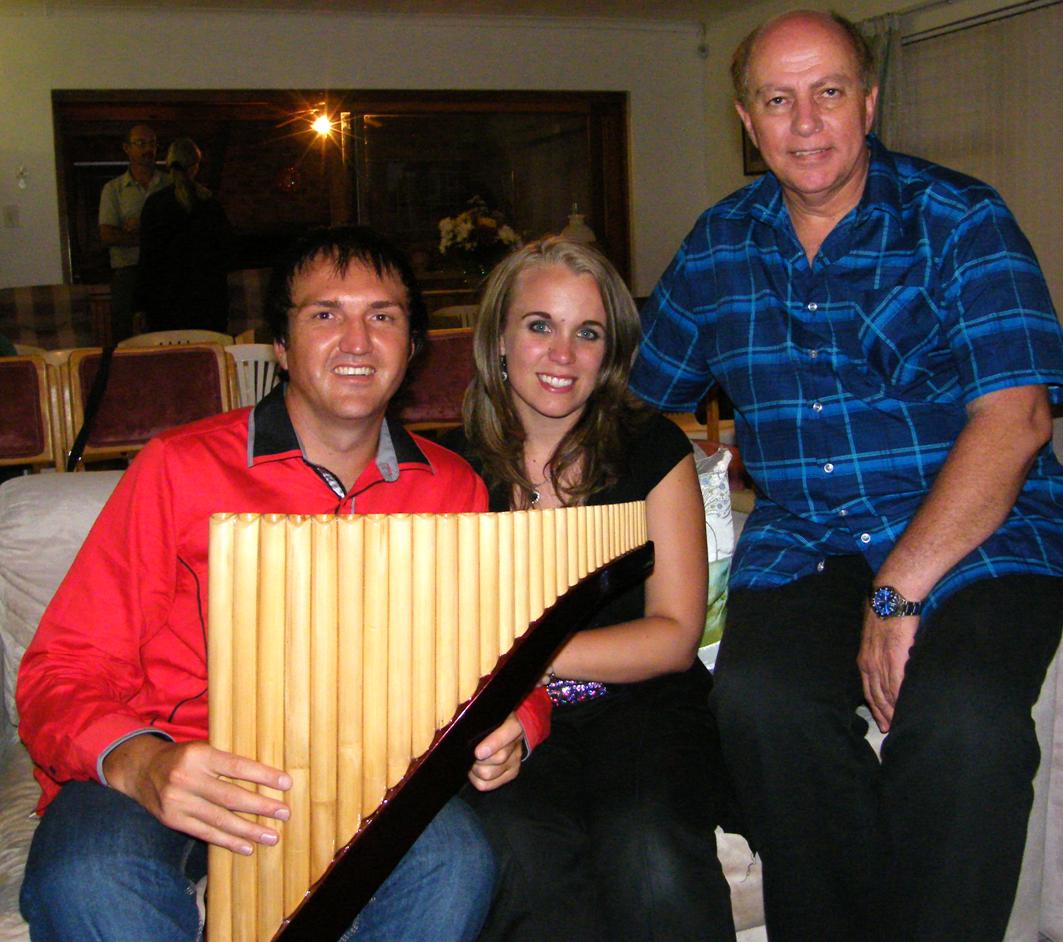 'n Gesellige Panfluitaand, met vlnr Hendrik Britz (panfluit-speler) en Miranda Oberholzer (sanger), saam met Pieter van der Merwe van Kleinbaai.
Hulle het die groot groep gaste met 'n groot hoeveelheid liedere vermaak, telkens onder luide applous. Hendrik het homself as Pipe Fantasies Panflute Pergormance geregistreer en vervaardig self ook panfluite wat te koop aangebied word. Sy kontakbesonderhede is 082-923-3315 of info@pipefantasies.co.za. Miranda was so opgewonde met hulle eerste kennismaking van Overstrand en De Kelders waar hulle gratis by Liesje van Woerkom oorgebly het, dat sy dadelik na haar pen gegryp het: "'n Stukkie Hemel: Doer in 'n hoekie, is 'n plekkie van rus. Daar vind jy jou drome, waar jy jouself is. Die uitsig met silver, in skitter bekleë, die mooiste natuur, wat lewe gee. 'n Sagtheid kom rus op jou siel en verstand. Hier vat die vrede jou aan die hand. Dit lei jou na 'n plek so na aan jou hart. Jy voel sommer tuis, ver van jou smart. So kom maak gou 'n draai hier in ons Gansbaai, waar skulpe en rotse jou heeldag betower. De Kelders bied aan, 'n stukkie hemel. Die Here het dié plekkie aan haar beskore. So lief soos haar hart, 'n kosbare mens, dit is haar passie, 'n paradys-wens."
Hardus Botha