"Soos dit maar gaan, het ons by Gansbaai Maatskaplike Dienste (Badisa) 'n hele paar projekte gehad waarmee ons die Oujaar vaarwel toegewens het…..en weer eens het die Here ons geseën met mense op ons pad wat ons so wonderlik bygestaan en ondersteun het en vir wie ons graag 'n "groot dankie" wil sê," sê Dorothy van Vuuren, Gansbaai Badisa se Maatskaplike Werker. Sy het na enkele voorbeelde van suksesvolle projekte in hierdie verband verwys.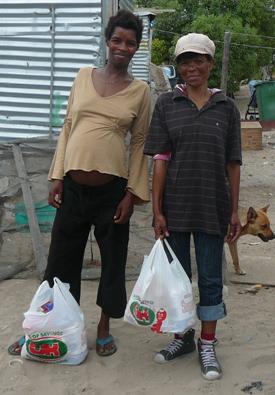 Bags of Love Projek: Hier was Gansbaai Badisa slegs op die Gansbaai gemeenskap se ondersteuning aangewese. "En wat 'n feestelike bydrae was dit nie!" Hierdie sakke is oraloor met opwinding en breë glimlagte ontvang. Daar was selfs 'n anonieme skenker wat ruimhartiglik 36 Bags of Love geskenk het wat in Beverley Hills uitgedeel moes word. Sy bedank ook vir USave vir die hulp met die aankope van die Bags of Love, asook Claudine Dyck-Springbok vir die hulp met die uitdeel daarvan en die stiptelike invul van die ontvangerslys.
Skoenboksie Projek: Verlede jaar het hulle daarop gefokus om die skoenboksies aan jonger pleegkinders en bejaardes in die gemeenskap beskikbaar te stel. "Weer-eens het die gemeenskap van Gansbaai ons wonderlik bygestaan en kon ons moeiteloos aan ons doelwit voldoen," sê Dorothy.
One more Kersete Projek: Dorothy sê hierdie was 'n wonderlike inisiatief en 'n heerlike projek. Hier is die gemeenskap versoek om saam met hul eie Kersetes net 'n ekstra bord beskikbaar te stel en op 26 Desember 2012 by Badisa se kantore af te gee. Sy sê dit was wonderlik om die gemeenskap met "bokse en bokse" Kersetes binne te vaar en dit uit te deel. Sy bedank ook hulle twee staatmakers in die gemeenskappe, Clara May en Claudine Dyck-Springbok vir hulle hulp. "In die midde-dorp het ekself Kersetes uitgedeel ek het gedink dit gaan heerlik wees, soort-van om soos Vader Kersfees te voel," vertel sy. "Maar wat my onkant gevang het was die oë sonder hoop wat my oral ingewag het. So gestroop deur lewensomstandighede dat selfs 'n heerlike gratis bord kos nie eens 'n sprankie lig daarin opgewek het nie."
Terug-Skool-Toe Projek: Dorothy vertel dat hulle hier 'n skenking van R1,000 van 'n dame met 'n hart vol deernis ontvang het: "Verkieslik vir die kinders," het die dame gesê. Dorothy sê sy en Madelein Fourie, nou Hulp Maatskaplike Werker, het behoorlik kopgekrap: "Sal ons nog Bags of Love aankoop of sal ons nog Skoenbokse koop of sal ons……, maar toe kry ons die blink gedagte om aan elkeen van die ouer pleegkinders 'n "Terug-Skool-Toe" pakkie te gee." Hulle teikengroep was pleegkinders tussen die ouderdomme van 13 en 17 jaar.
"Dankie ook aan Gansbaai Pep Stores wat ons so pragtig hiermee gehelp het, maar baie dankie aan die 'Duisend-Rand-Dame' wat vir 'Duisend-Kinder-Glimlagte gesorg het. Aan almal dankie en nogmaals dankie!"
Hardus Botha