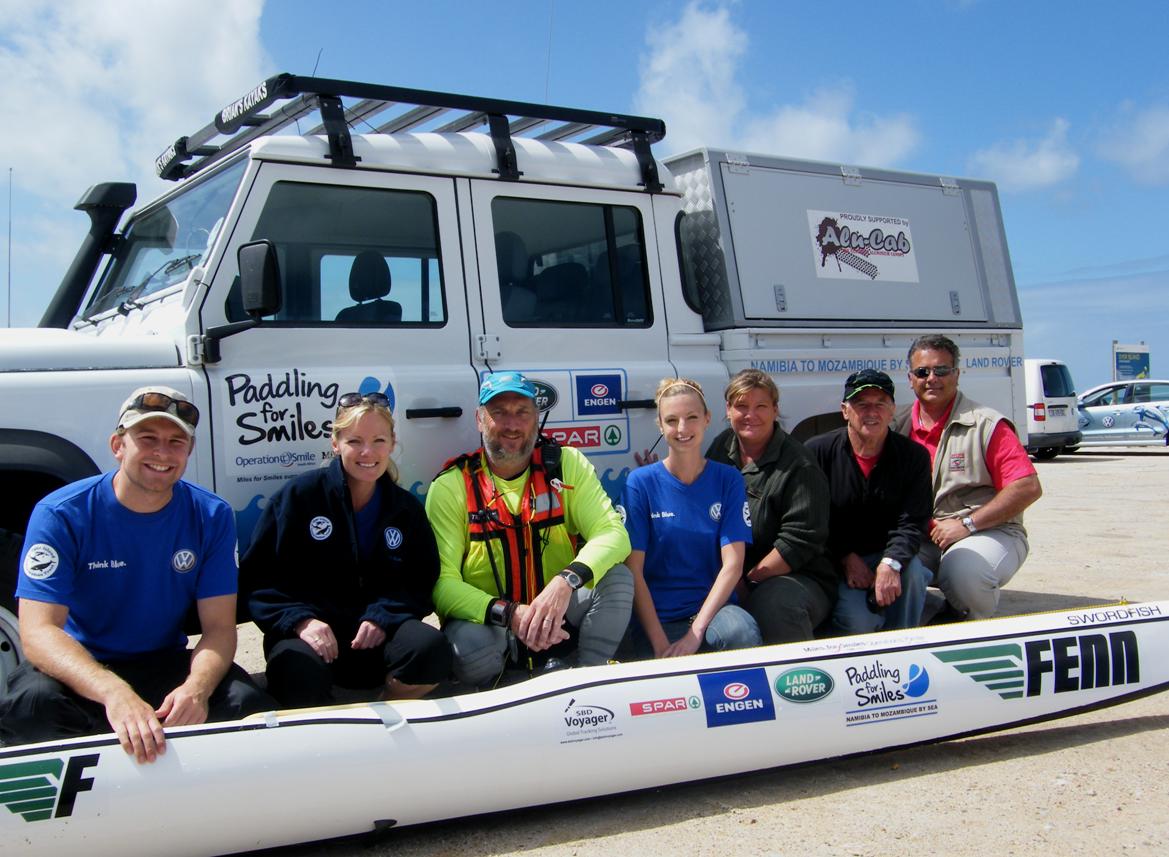 Vlnr is Oliver Jewell, Alison Towner, Richard Kohler (roeier). Michelle Wcisel, Christina Rutzen en Warren Dykes (Richard se begeleier) by die "surf-ski" roeiboot waarmee Richard die lang tog aangepak het
Vanaf Namibië na Mosambiek klink heel maklik, veral met 'n moderne 4x4 voertuig. Om dit egter op 'n smal 6½ meter "surf-ski" roeibooitjie te doen, nogal om Kaappunt, is 'n haai (perd) van 'n ander kleur. Dit is presies wat Richard Kohler (42) besig is om te doen. Richard roei hierdie afstand teen 'n pas van ±45 kilometer per dag vir Paddling for Smiles Initiative.
"For children born with a cleft lip or palate, a smile is life changing. Paddling for Smiles forms part of the Cipla Miles for Smiles Challenge," het Richard gesê. Hy het gedurende Desember 2012 in Kleinbaai hawe aangedoen. Op land word Richard deur Warren Dykes in 'n geborgde Land Rover vergesel.
Eben Visser van Secma het een van Secma se draagbare "trackers" as ondersteuning aangebied en het ook 'n Blackberry Playbook Tablet geborg, sodat Warren deurentyd vir Richard kan "track" wanneer hy nie in sig is nie.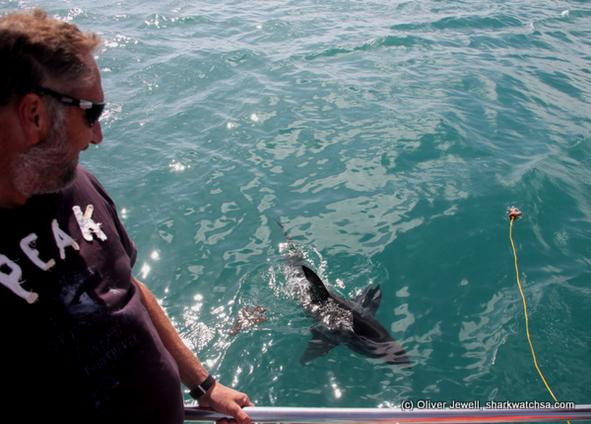 Die roeier vanaf Namibië na Mosambiek, Richard Kholer, besigtig een van die omgewing se haaie, met die hulp van Marine Dynamics, vanaf 'n veiliger posisie as sy bootjie
Dyer Island Conservation Trust (DICT) het vir Warren en Richard se akkommodasie in die Great White House en Saxon Lodge gesorg.
Michelle Wcisel van DICT het gesê dat Marine Dynamics Richard eers 'n eerstehandse ervaring van die haaie rondom Dyer Eiland gegee het en hom daarna na Die Dam vergesel het, vanwaar hy sy moordende roeibootjie-rit sou voortsit.
Hardus Botha