Persoonlik: John Thompson het 'n rugoperasie ondergaan en ons wens hom alles van die beste toe – mag die herstel volkome wees, John.
Verjaarsdae/Birthdays: MJ Burden 11th.
Woensdag se Sloegterskompetisie is gewen deur Dawie Rossouw met 40 punte, gevolg deur Christo Spanellis 39, Jannie Brandt 39, Jack Doyle 37, Joe Cesare 36, Robert Roux 36, Dawie Viljoen 35, George Hunt 34, Sextus Neethling 33, Stella Swart 33, Steve Muller 33, Bobby Brandt 33, Andre Roos 33. Naaste aan die penne was George Hunt op no 2&11, Bobby Brandt op no 8&17 en Jannie Brandt op no 15.
Vrydag se 9-putjie kompetisie (borg: OK Foods) het 11 spelers aan deelgeneem en die uitslag is soos volg: Christo Spanellis 24, Leon Hattingh 22, Charlie Bent 21, Jakkie Beukes 21, Daniel vd Merwe 20, Bernard Olivier 20. Daan Victor wen die ledetrekking van R1000 – veels geluk, Daan! Die sosiale aand was weer eens 'n heerlike samekoms en ons bedank vir Awie & Ria vir die wonderlike broodtafel, Toekie vir die feetjieslaai en Bev & Steve wat die vleis so lekker gebraai het. Julle is werklik ons staatmakers wat Vrydagaande vir ons 'n pragtige geleentheid maak – julle pragtige bydrae word so baie waardeer.
Saturday's competition was a Single Stableford and was sponsored by Toni & Laurie Sauter – thank you, Toni & Laurie for the great meat prizes. We appreciate your lovely gesture. The winner was Frances McIntosh with 43 points, followed by Louis vd Vyver 43, Marlene Davin 42, Charlie Bent 42, Jack Maclachlan 40, Jack Doyle 40, Johan Hanekom 40, George Hunt 39, Malcolm Bury 39 & Melvin Tobias 39. Naaste aan die penne was Senekal Dreyer op no 2&11, Melvin Tobias op no 8&17 en Daan Victor op no 15.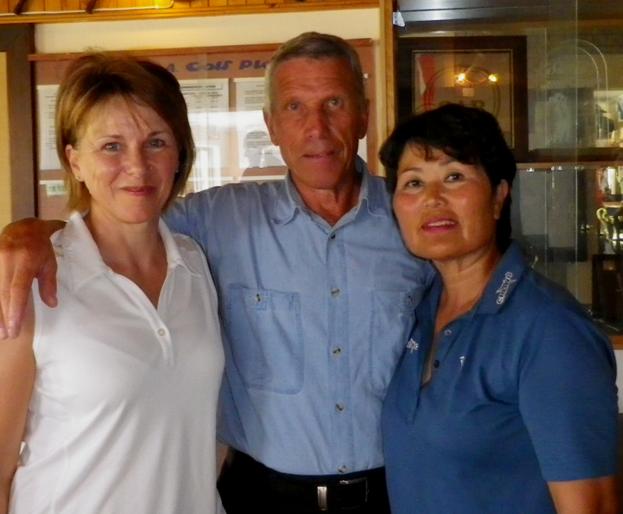 Toni & Laurie Sauter Sponsored Day, Winner: Frances McIntosh
Spog Twee's word aangeteken deur George Hunt(2) en Senekal Dreyer (11).
Volgende Saterdag: Enkel Syfer Plus.
Klub/Club: 028 384 1441 – Leon Hattingh & Andre Roos
Navrae/Enquiries: 082 878 0534 Johan Coetzee