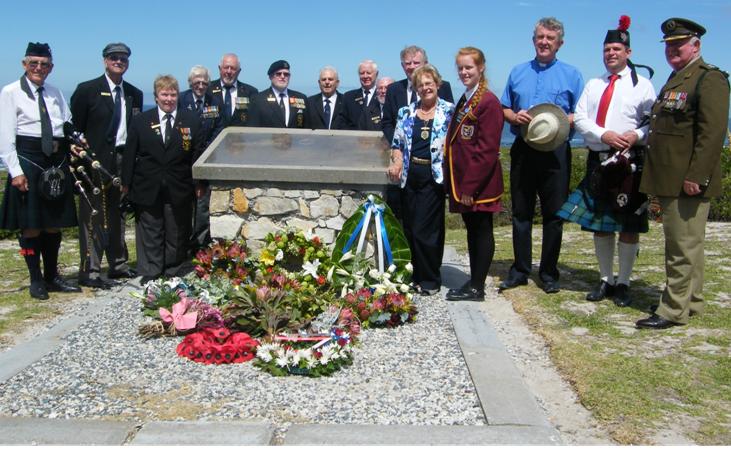 'n Deel van die kranslêers tydens die Gedenkdiens by Danger Point
Die 161ste herdenking van die HMS Birkenhead Troepeskip is vanaf 24 tot 26 Februarie 2013 deur Gansbaai Toerisme aangebied en is goed georganiseer. Dit is verblydend om te weet dat Gansbaai Toerisme jaarliks al meer insit om hierdie tragedie van 25 Februarie 1852 nie af te skeep nie, veral ook met die oog op al groter oorsese betrokkenheid in die toekoms.
In Januarie 1852 het die HMS Birkenhead vanaf Portsmouth na Ierland vertrek en daarvandaan na Simonstad, Suid-Afrika in 'n vaart van 50 dae. Die Kaapse Goewerneur, Sir Harry Smith was in 'n grensoorlog gewikkel en het dringend op troepe-versterkings gewag. Om 06:00 die oggend van 25 Februarie 1852 vertrek die HMS Birkenhead vanuit Simonstad, met Seeman Thomas Coffin agter die stuur, Kaptein Robert Salmond as skeepskaptein en Kaptein Edward Wright en Lt.Kol Alexander Seton as bevelsoffisiere. Bykans 700 mans, vroue en kinders was aanboord, asook 9 perde (na oorlewering). Die nagtelike ure het aangebreek en dit was donkermaan met 'n stikdonkerte wat die boot omhul het. Teen ongeveer 2 uur die oggend van 26 Februarie 1852 tref die HMS Birkenhead die spits van die nou bekende Birkenhead-rots naby Danger Point. Die rots was destyds ongekarteerd en Kapt Salmond was dus onbewus daarvan. Binne sowat 20 minute was alles verby. Die woorde van Kaptein Salmond se bevel tydens die tragedie is later in die geskiedenisboeke verewig: "Women and children first"! Sowat 350 soldate, 8 vlootoffisiere en 60 seemanne het verdrink. Slegs 193 het die ramp oorleef, ingesluit die 7 vroue en 13 kinders, waarvan 3 baba's was wat gedurende die vaart gebore is.
Sondagmiddag is vir 'n gesellige piekniek te Stanfordsbaai benut, wat terdeë deur die groep gaste geniet is. Dit is ook daar waar daar destyds vissermanshuisies was. Van die mans, vrouens en kinders wat oorleef het, het daar aangekom waar hulle hulp ontvang het.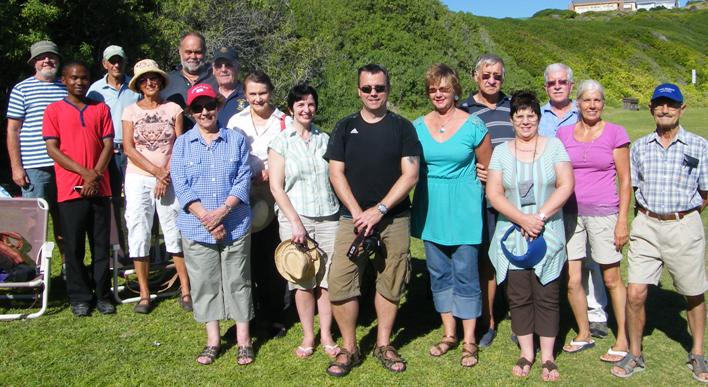 Belangstellendes wat 'n gesellige kenmekaar-piekniek te Stanfordsbaai bygewoon het.
Maandagaand het sowat 50+ gaste by die Great White House in Kleinbaai bymekaargekom. Gansbaai Academia se knap koor, diè keer net die dogters, het onder leiding van Liesel Mostert gesorg dat die gaste pragtige koorsang kon geniet. Daarna is Charles Shapiro aan die woord gestel. Charles was 'n mielieboer in die destydse Transvaal. Sy vriend, David Crouse, was 'n entoesiastiese onderwaterfotograaf en mettertyd het hierdie stokperdjie 'n lewensbelangrike rol in Charles se lewe begin gespeel. 'n Volledige artikel, The Dig-ging Stick oor die wrakke van die Johanna (1682), die Cole-brooke (1778), die Birkenhead (1852), asook agtergrond-geskiedenis is deur die Salvor & Maritime Archaeology in die tydskrif, S.A. Archaeology Society's (Volume 29, No 2 - Augustus 2012), geplaas. (www.shipwreck.co.za). Charles se aanbieding was egter op die items wat van die Birkenhead uitgeduik is, gefokus. Etlike skyfies van die uitgeduikte items is deur hom vertoon, met gepaardgaande verduidelikings. Die aand is met smaaklike verversings afgesluit.


Die dogters-koorlede van Gansbaai Academia wat olv Liesel Mostert in die Great White House opgetree het
Dinsdagoggend is 'n groot hoeveelheid gaste op Wilfred Chivell se twee bote, Whale Whisperer en Slashfin, na die gevaarlike "Birkenhead"-rots geneem. Die twee bote het langs mekaar digby die rots "parkeer" vir die tradisionele kranslegging ter see, met Rev Dr James Gray wat 'n kort diens gelei en 'n gebed gedoen het. Mark Robson het Those in Peril on the Sea op sy doedelsak gespeel, waarna die kranslegging plaasgevind het.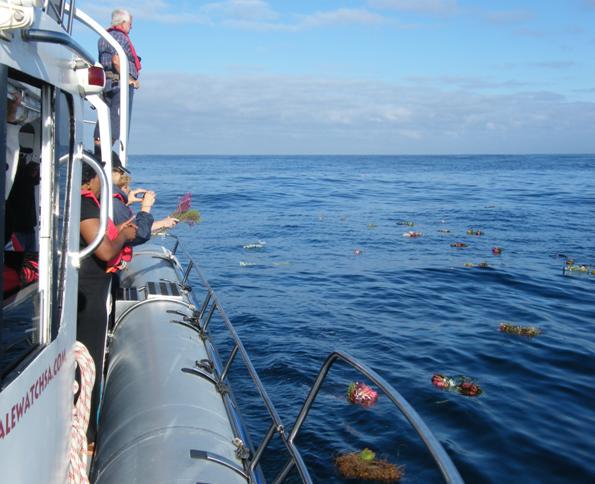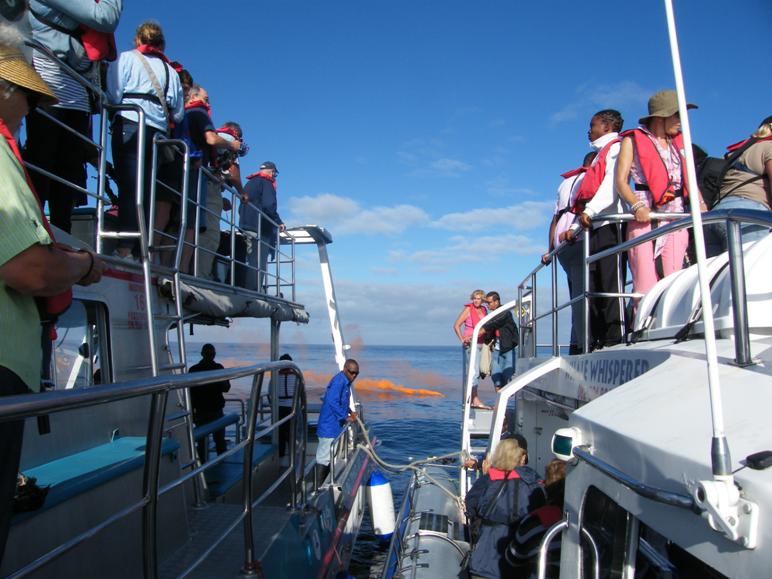 Die kransleggingseremonie ter see vanaf die bote Whale Whisperer en Slashfin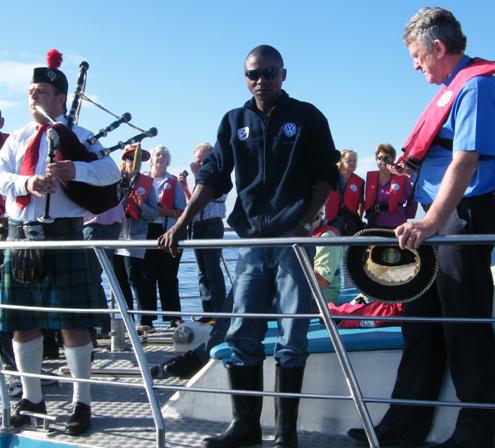 'n Gewyde oomblik kort voor die kranslegging ter see, Rev Dr James Gray regs
Dinsdag om 11:00 is die Gedenkdiens te Danger Point, aan die voet van die Birkenhead Gedenksteen, aangebied. Johan Pieterse, voorsitter van Gansbaai Toerisme, het as seremoniemeester opgetree. Enkele gassprekers is aan die woord gestel, waaronder rdl Nicolette Botha-Guthrie, Overstrandse Uitvoerende Burgemeester. Rev Dr James Gray het die Gedenkdiens gelei, waarna verteenwoordigers van verskeie instansies die geleentheid ontvang het om 'n krans te lê. Plaaslike eregaste teenwoordig was onder andere rdh Pieter Scholtz, Overstrandse Uitvoerende Onderburgemeester, Bianca De Koning, Jnr Rdl en Academia se Hoofmeisie, asook Jan Kotze (Gr 7) en Zulene van Niekerk (Gr 7) wat namens die laerskole 'n krans gelê het.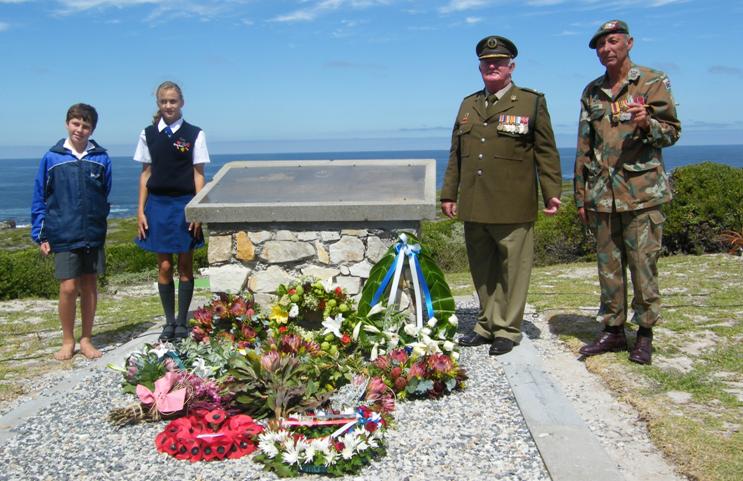 Links is Jan Kotze en Zulene van Niekerk direk ná hul kranslegging namens die laerskole by Danger Point, saam met twee van die weermaglede wat die Gedenkdiens bygewoon het
Tourism Chairperson, Johan Pieterse
"On behalf of the Gansbaai Tourism Committee I want to extend a word of thanks to all those who contributed to and worked hard on the successful presentation of the commemoration of the sinking of the HMT Birkenhead. This occasion, which is a significant event on the Gansbaai calendar, was well attended by both local residents and representatives from the UK. This shows how high the commemoration is regarded. We have already made contact with the town Birkenhead in the UK. Futhermore we plan to invite the shipyard where the HMT Birkenhead was built and the Royal Navy to take part in future commemorations. The enthusiasm with which various persons and organizations contributed is therefore well appreciated. You all contributed to the hosting of this event, which seems to be expanding from year to year."
Gansbaai Toerisme sê dankie
Bianca de Koning, Hoofdogter van Gansbaai Academia; Cape Town MOTHS; Colin, Lighuisbestuurder; Gansbaai Academia Koor onder leiding van Liesel Mostert (Uitstekende koorsang); Gansbaai Superspar (Borg van vrugtepakkies vir piekniek); Great White House personeel (Heerlike verversings en goeie, vriendelike diens); HMS Ganges Association; Jack White (Trompet); Kat Myburgh, Areabestuurder van die Overstrandse Munisipaliteit se Gansbaai Administrasie en personeel (Ondersteuning en vervoer van stoele na die Lighuis); Marine Dynamics personeellede, vrywilligers en al drie laerskole, Laerskool Gansbaai, Gansbaai Primêr en Masakhane Primary kinders (Maak van kranse); Mark Robson (Doedelsak); Rdh Pieter Scholtz, Overstrandse Uitvoerende Onderburgemeester; Rdl Nicolette Botha-Guthrie, Overstrandse Uitvoerende Burgemeester; Rev Dr James Gray van die United Church in Hermanus (Gedenkdiens); Royal Navy Association; WESGRO (Borg van Militêre deelname onder leiding van Lt.-kol Bryan Sterne); Wilfred Chivell en personeel van Marine Dynamics en Dyer Island Cruises (Borg van bote); White Shark Guesthouse (Akkommodasie vir gasspreker); Wilfred Chivell en Susan Visagie van die Great White House (Borg van Maandagaand en die gasspreker, Charles Shapiro).
Hardus Botha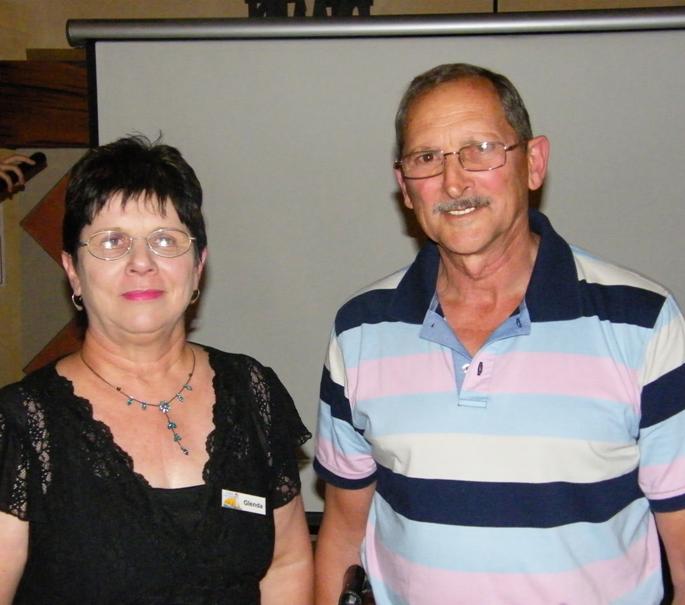 Die gasspreker, Charles Shapiro, wat 'n skyfievertoning oor die uitduik van items in die HMS Birkenhead aangebied het, saam met Glenda Kitley wat 'n blyk van waardering aan hom oorhandig het