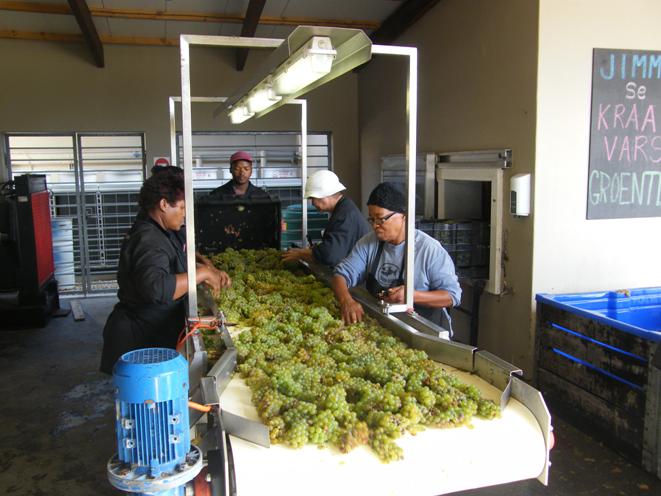 Gansbaai Wynproegilde proe nie net wyn nie, daar word ook geleer van druiwe-pars en die funksionering van wynkelders
"Ek is nie seker wat alles hier aan die gebeur is nie, maar dis een reuse sukses!" was 'n opmerking deur een van die dames….dis nou nadat die 3de wynkelder besoek is. Gansbaai Wynproegilde se jaarlikse wynproe-uitstappie was vanjaar in die rigting van die natuurskoon Hemel-en-Aarde Valei by Hermanus. Die eerste wynkelder aan die beurt was Hermanuspietersfontein Wynkelder. Die trotse Afrikaanse etikette op die bottels het die groep beïndruk. Retha Oosthuizen het haar goed van haar taak gekwyt met die bekendstelling van die verskillende wyne met interessante wynname soos Martha, Arnoldus, Posmeester, Kleinboet, Swartskaap, Bloos en Skoonma. Agt uitstekende wyne is te proe aangebied. Wynmaker Bartho Eksteen het eweneens interessant oor die oorsprong van die eienaardige wynname gepraat, asook oor die interessante ontstaan van die wynkelder, met Hermanus wat aanvanklik as Hermanuspoietersfontein bekendgestaan het, vernoem na 'n onderwyser met die naam van Hermanus Pieters. Die tweede wynkelder wat besoek is, is die Bouchard Finlayson Wynkelder. Hier was Melanie Groenewald aan die woord en ses uitstekende wyne is daar geproe, met eweneens interessante name soos Kaaimansgat Chardonnay en Hannibal. By Newton Johnson Wynkelder het Bevan Newton Johnson die woord gevoer.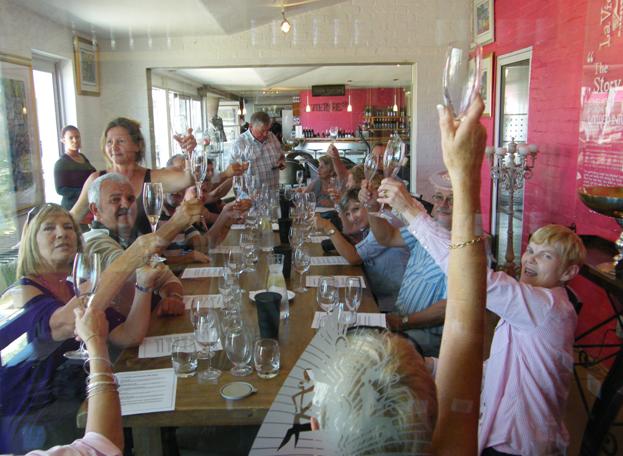 'n Gesellige oomblik om die etenstafel, nadat 4 wynkelders besoek is
Ses van hulle uitstekende wyne is deur Lisa Renzenbrink te proe aangebied. Op pad na die volgende wynkelder, La Vierge and Domaine Des Dieux Wynkelder, het een van die dameslede gesê: "Die eetplek moet nou vinnig naderkom, my peanuts is klaar!" Hier is ook ses wyne van hoogstaande gehalte geproe, maar teen daardie tyd en met 24 proe-glasies agter die blad, is daar met angstigheid na die ete uitgesien, wat besonder smaaklik voorberei is. Vir enige navrae rakende die gewilde Gansbaai Wynproegilde kan voorsitter Helmie de Vries by 028-388-0708 of 082-577-6920 geskakel word, of stuur 'n e-pos aan hom by info@franskraalbandb.co.za.
Hardus Botha