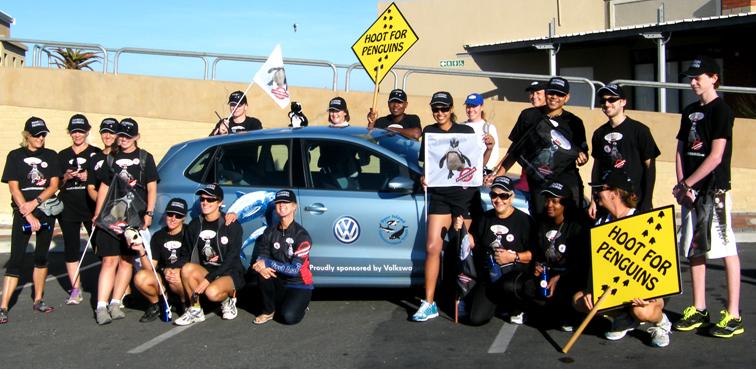 Die vrolike stappers vir Promises for Penguins kort voordat hulle by die Gansbaai Inligtingsentrum weggespring het op hul staptog na Simonstad
"We don't want your money, Honey - we want your love!", is jaarliks die stappers van Promises for Penguins se uitroep wanneer hulle die sowat 120km vanaf Gansbaai na Simonstad stap. Vanjaar het hulle vanaf 22 - 27 April gestap en weer by Gansbaai Inligtingsentrum begin. Hulle hoofdoel is om soveel as moontlik bewusmaking vir die voortbestaan van die bedreigde Afrika pikkewyn te bewerkstellig. The Penguine Promises Waddle for a week is an AKAA (Animal Keepers Association of Africa) initiative.

The group of sixteen consists of animal keepers and animal enthusiasts from around South Africa. Representing uShaka Sea World in Durban are Gabrielle Harris (and her son, Kai), Jane Dlamini, Peter Baloi, Tarryn Abrahams, Paul Lotter and Natasha Lotter. The team from the Two Oceans Aquarium comprises Hayley McLellan, Steven Casper, Nasmie Simons, Fiona McLellan and Katja Rockstroh. Nikki Chapman of Brands for Change and June Smith, Andrea Cronje and Carol Ellerker from Biggarsberg will also be waddling with the group. The Penguin Promises Waddle for a Week campaign, generously sponsored by CapeNature and Chrysler Jeep Dodge - Newlands, is not a fundraising campaign. Instead, the campaign focuses on raising awareness about the plight of the African penguin. Current data suggests that there are only about 60,000 of these endemic birds left on southern African shores and scientists believe that they could be extinct in the wild within 20 years. Overfishing, climate change, pollution and habitat destruction are just some of the factors taking their toll on the species. Tydens hulle staptog deur Gansbaai se Hoofstraat met plakate wat lees "Hoot for Penguins", het Gansbaaiers seker gemaak hulle voldoen aan dié vereiste, aangesien daar luidrigtig vir hulle getoet en gewaai is.

Vir verdere inligting kan die webtuistes www.penguinpromises.com of www.aquarium.co.za besoek word, of stuur 'n e-pos direk aan Hayley McLellan by hayley.mclellan@aquarium.co.za.
Hardus Botha