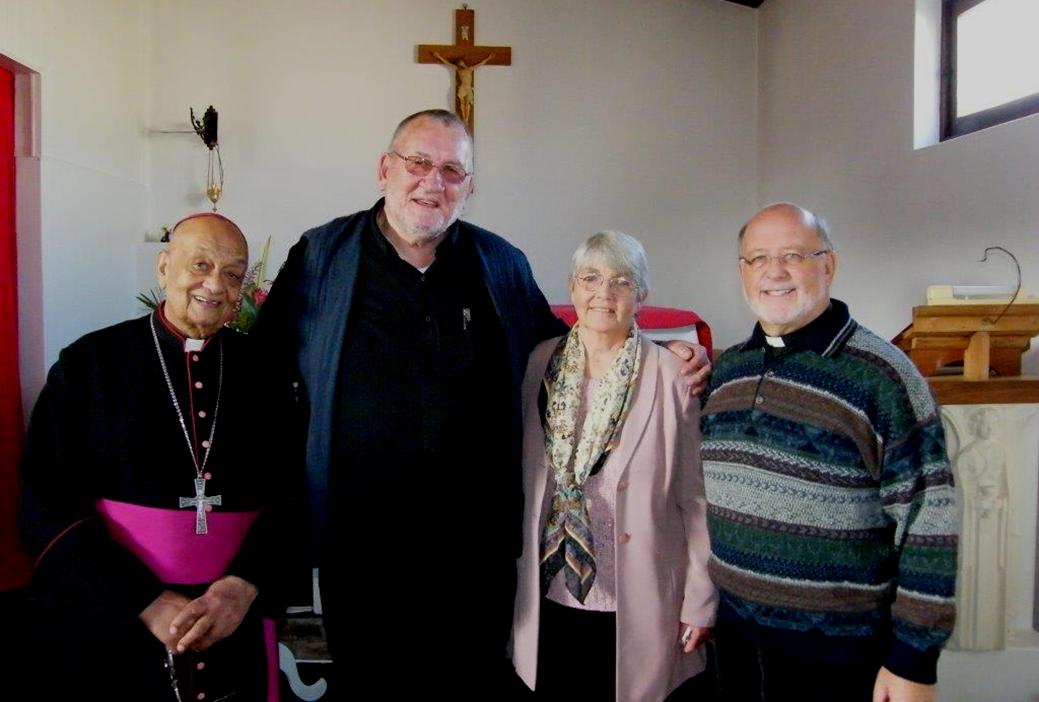 Archbishop Emeritus Henry, Father Bart Walsh, Ingrid Arbuthnot and Eddie O'n eil in the St Peter the Fisherman Catholic Church
The parishioners of St Peter the Fisherman Catholic Church in Gansbaai invited several guests to the blessing and opening of their Church Hall on Sunday, 30th of June 2013. The gathering commenced with a Holy Mass and a Blessing, followed by a light lunch where the parishioners and guests could enjoy a blessed day. Father Bart Walsh delivered the message along with Archbishop Emeritus Lawrence Henry who said it was his first visit to Gansbaai. Ingrid Arbuthnot presented the dedication speech. "It is a great privilege for me because I am able to express in person the great pride and satisfaction that we, the greater parish of Hermanus, Bredasdorp, Zwelihle and especially St Peter the Fisherman feel today for the work of the Catholic Church in the Overberg.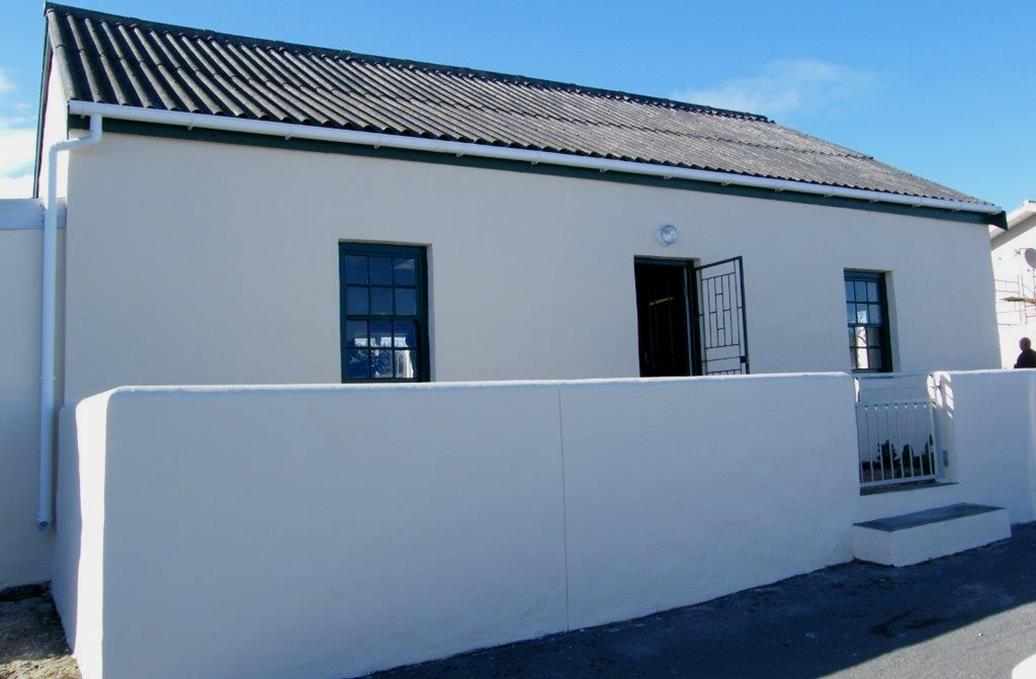 The newly built hall of the St Peter the Fisherman Catholic Church
St Peter the Fisherman is not a particularly large or wealthy Church, but it is a Church which is devoted to the service and wellbeing of the people of Gansbaai. Today is not the beginning. We are building on the foundation of a long history of service here," she said and continued: "During the 1960's Dougie and Frank Rock decided to change an old garage, on the property where they lived, into a small church where the Catholic community could celebrate Mass on a Sunday. In sy verwelkomingsboodskap het Father Bart na die afbranding in Julie 64 VC van die Christelike area in Rome verwys.

Archbishop Emeritus Henry and Father Bart Walsh blessed the Fisherman Catholic Church Hall
Bykans die helfte van die stad is afgebrand, waarna 'n tydperk van verwoede vervolging van Christene, wat voëlvry verklaar is, aangebreek. Father Bart het daarna die lewenspaaie van die apostels beskryf, met die fokus op Paulus en Petrus, met eersgenoemde wat onthoof is en laasgenoemde wat versoek het om onderstebo gekruisig te word. Vir die genooide gaste was die Heilige Misdiens (Holy Mass), asook die Seënwense (Blessing) wat hulle bygewoon het, 'n besonderse geleentheid. Alhoewel vreemd vir die meeste, kon die absolute gewyde atmosfeer en diepte daarvan aangevoel en beleef word. Ingrid's expression of thanks on behalf of St Peter the Fisherman Catholic Church, went to: Gawie (building and extras added); Rosa Rabe, R&R Aluminium (toilet window); Warrant Officer Fanie Killian (he found the bell when it was stolen); Mike Bouchier and Brian Robertson from Stanford (many hours dedicated to the project); Ingrid's daughter, Karin (for many hours spending travelling from Somerset West and working weekend after weekend to create the beautiful garden); Father Bart (for not giving up on them and for understanding their wish to renovate the decaying old house); The ladies who did the flowers; Angela Caie (organising the catering); Ingrid's family (for their help and generous donations towards the project).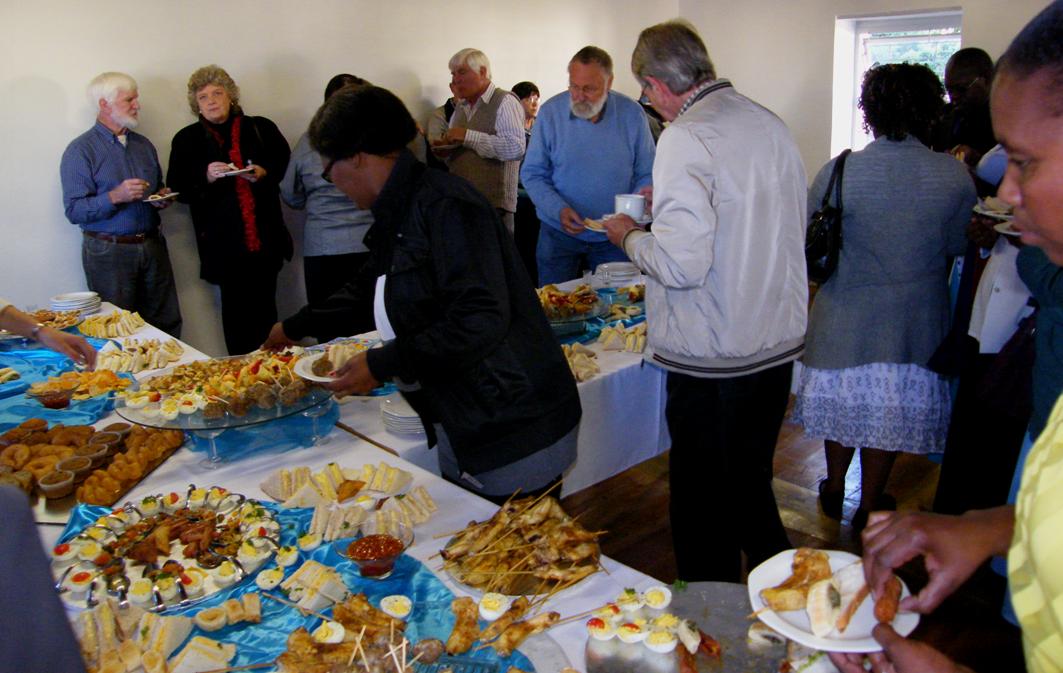 A sociable moment during the light lunch
"Last but not least - thank you to the parishioners who have put up a brave front with the inconveniences that go with building and the support that they have given over the past 6 months. Our work is not done now. It is only beginning. Our vision is to use these premises for the greater good of the community of Gansbaai," Ingrid said and concluded: "This project would not have been possible without the combined effort of the parishioners of Hermanus, Standford and Gansbaai, the wonderful support of the community of Gansbaai, friends and family, and the interest and support of the Archdiocese of Cape Town, Fr Bart and Fr O'n eil."

Hardus Botha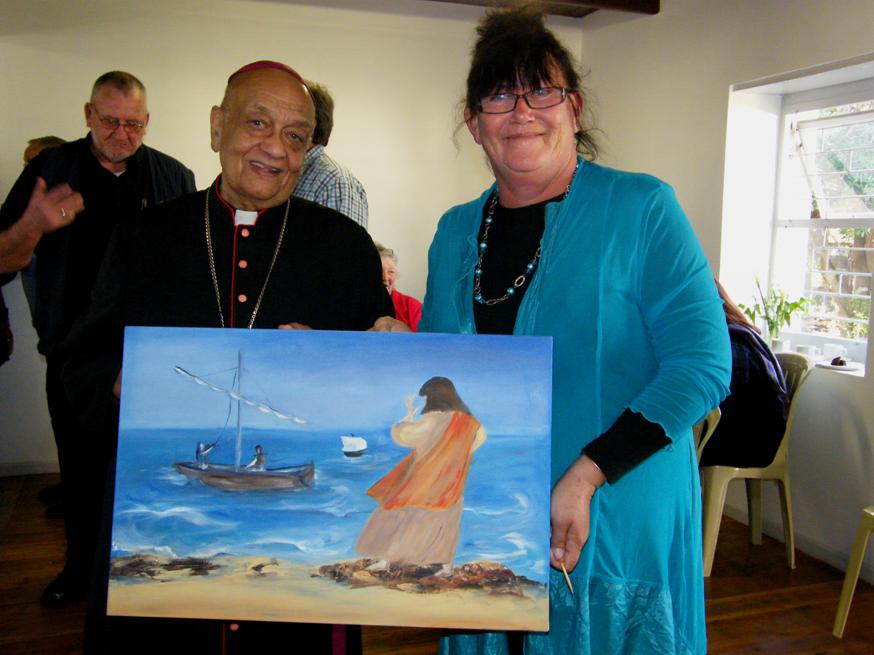 Angela Caie with her Fisherman's painting for the hall, next to Archbishop Emeritus Henry