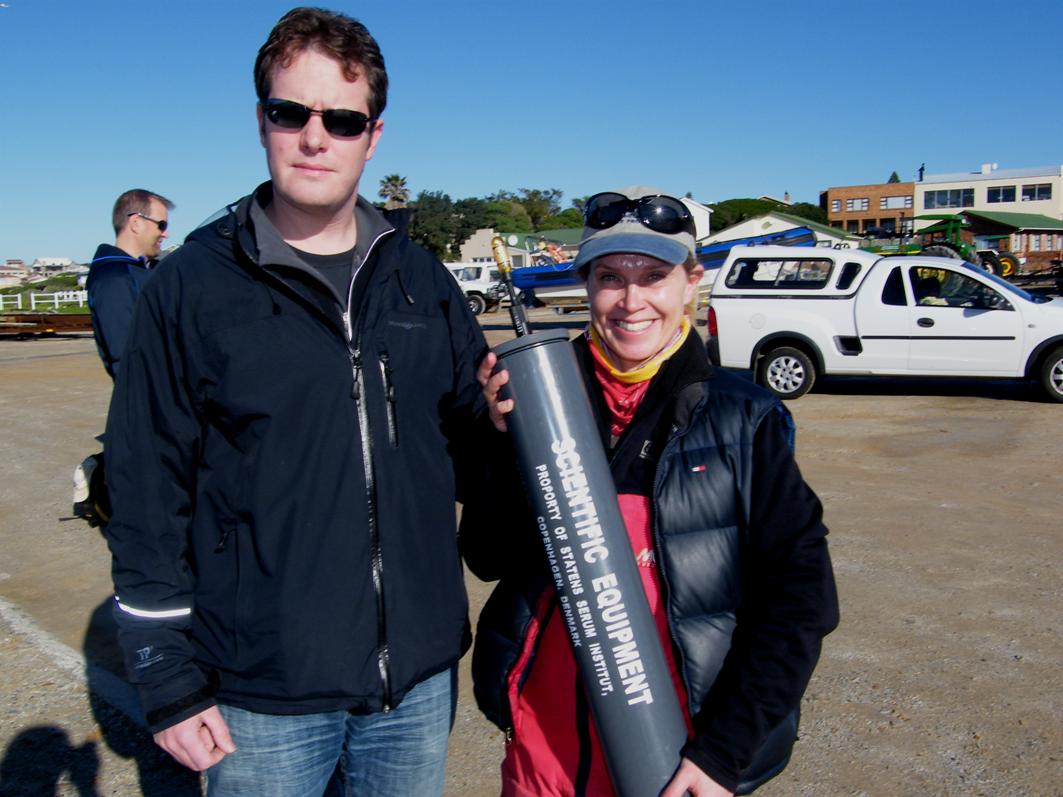 Harry Stone and Katja Vinding Peterson with one of the acoustic loggers which has been moored at Pearly Beach
Some of the mysteries off our coast are a step closer to being explained with the deployment this week of underwater recording devices by the Whale Coast Cetacean Project. Led by PhD student, whale scientist, and bioacoustician, Katja Vin-ding Petersen, the project seeks to obtain a baseline of distribution, habitat, and behaviour of whale and dolphin species in our area.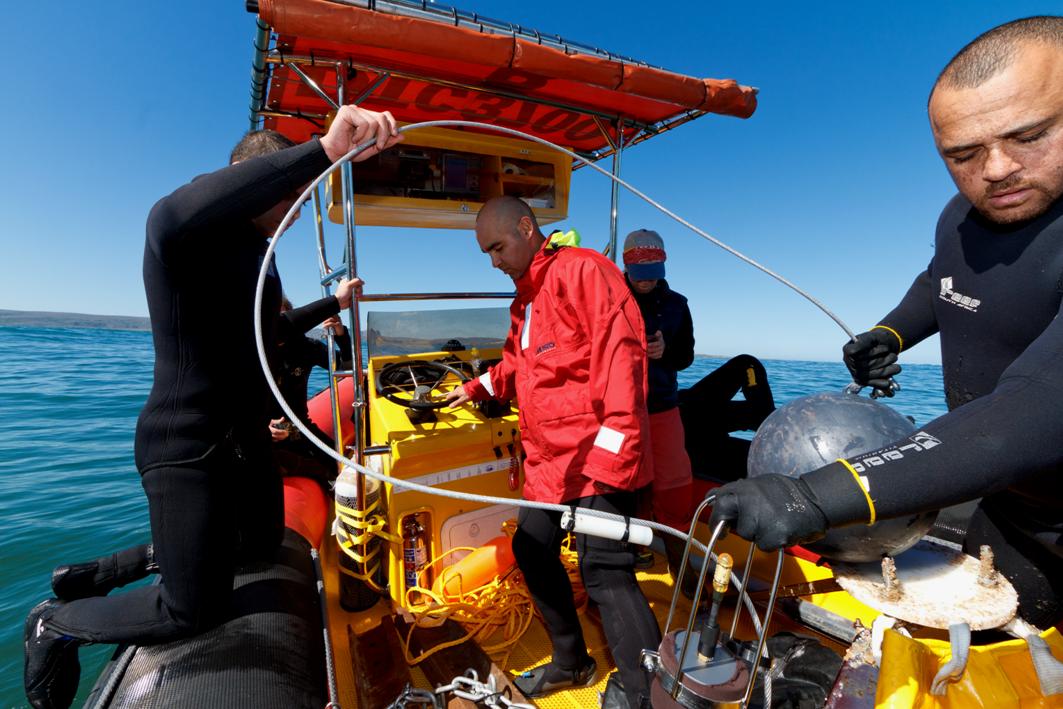 Divers on the boat, Isunami, preparing the acoustic loggers to be moored

In a first for South Africa, Katja is observing the cetaceans from land as well as monitoring them in the sea to enable a non-invasive and unparalleled insight into them. Recording the vocalizations of whales and dolphins allows them to be studied at night or in rough conditions when visual observation is not possible. By also correlating visual and acoustic data our understanding of the species' utilization the area can be greatly expanded, and through this their protection safeguarded.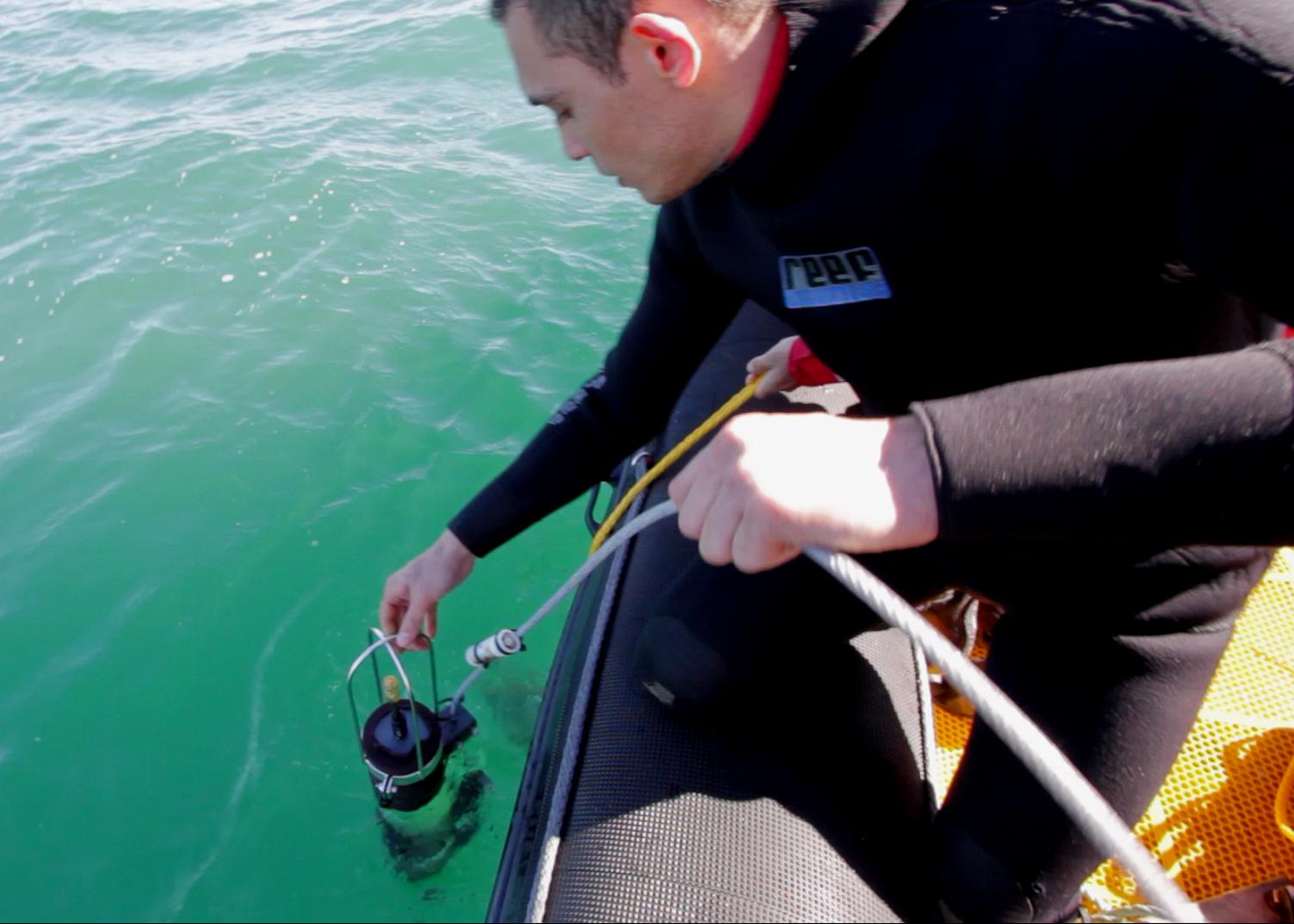 A big moment for Katja Vinding Peterson: The first acoustic logger goes into the sea
The deployment of the specialized underwater microphones is the realization of many months of preparation and work as devising a system to cope with the demands of our often rough seas, not to mention getting them into it, is a herculean task. The Department of Environmental Affairs and their team from Oceans and Coasts assisted and brought their expertise to bear in both designing viable moorings and the logistics of deployment. Two acoustic loggers were successfully moored on the seafloor in the Pearly Beach area on Monday, 2nd September where they will now pick up the sounds of whales and dolphins for analysis. Katja is grateful to her project members Nicole du Plessis, Karla van der Westuizen, Giulia Roncon, and Jessica Greenston, with Mogens Trolle and Warren Hardenberg for their assistance from land during the deployment, and Bradley Blows, Lisa Hancke, Gavin Louw, Gavin Tutt, Dirk Muller, and Howard Smith from Oceans and Coasts for their hard work constructing the moorings and at sea.

For regular updates the Whale Coast Cetacean Project can be followed online at www.facebook.com/whalesdolphins and www.whalesdolphins.co.za.

Harry Stone