Dis weer daardie tyd van die jaar wanneer ons besigheids-mense lug-op spring van opgewondenheid terwyl sommige permanente inwoners morrend en klaend protesteer teen die woesterny.

Hulle kla hulle kan nie die dorp in nie en wanneer hulle daar wil uit, is dit dieselfde gesukkel. Daar is een baie goeie oplossing hiervoor en om sommer ook die oor-en-weer-groetery en 'n jaar lank se nuus delery tussen die winkelrakke vry te spring: staan vroeg op.

Hierin verwelkom ek die gaharwar: dat die winkels hulle deure vroeër oopmaak as die res van die jaar. Ek is 'n meisie wat daarvan hou om teen nege uur terug by my huis te wees van 'n plaaslike inkopie ekskursie – somer en winter, vakansie of nie. Nou moet ek darem ook te reg sê ek is nie die land se grootste koper nie. Ek koop wat ek nodig het en nie wat ek wil hê nie, maar as ek vanoggend opgestaan het met 'n krakie in 'n muur, het ek die Polyfilla nodig nog voor ek my tande geborsel het. As dit beteken ek moet tot nege uur wag vir 'n deur om oop te gaan, gaan daardie krakie 'n kraak word, want as my oggendtrein spoor gevat het, stop hy nie by elke saaidieng nie.

'n Ander irritasie vir die permanentes is motoriste wat verkeersreëls ignoreer en hulle stadsverkeer maniere hier kom uithaal. Hier is ons gewoond aan rustig wees en dit beteken volgafstande, sperstrepe en stoptekens gehoorsaam ( wel, die meeste van ons ). Daarby het ons die kalme bedagsaamheid in ons om voorkeur te gee aan die voertuig aan ons regterkant, sowel as aan voetgangers. Om agter ons en toet, werk ook nie soos in die stad nie. Hier kry ons 'n ander tipe houding oor ons in sulke omstandighede.

Die ander onverantwoordelikheid wat ek hier waarneem is ouers wat snotkoppies agter die stuur van 'n voertuig plaas terwyl hulle ewe trots langsaan sit. En dit in onse "stil" straat waar helmetlose motorfietsryers en motoriste dink dit is 'n toetsrenbaan.

Overgesetsynde, watter maatreëls ookal in plek geplaas gaan word, wees maar versigtig op ons paaie en in ons strate hierdie jaar. Dra maar die ou beltjie; los eers die selfoontjie en doen wat jy moet doen. Indien jy oortree, sluk maar jou woorde voor dit uitkom, want as jy verkeerd is, is jy nie reg nie.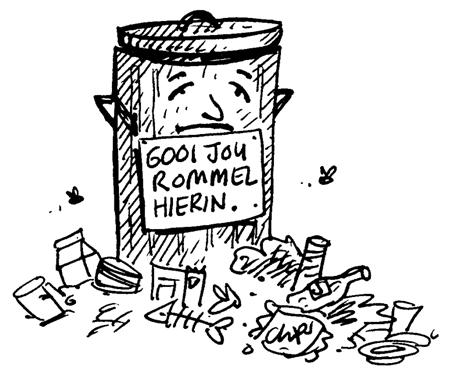 My persoonlike grief teen die vakansiemense is rommel-strooiery. Ons is weereens gekroon as die groenste Munisi-paliteit, net jammer dit word nie in Groot Groen Letters die hele hoofstraat vol adverteer nie. Dit is algemene praktyk in die buitewyke dat mense hulle vullis langs die pad in die bosse weggooi. Ek sien dit self gebeur in die groen blok oorkant my huis en dit grief my grensloos.

Dink maar in elk geval twee keer voor jy weggooi. Wat is tog lekkerder as om saam met die kinders iets te skep uit weggooigoed? Maak julle eie geskenkies of iets om saam te neem vir Oupa en Ouma in die ouetehuis.

Hier is 'n idee. Week eierhouers oornag in water, frummel dit die volgende oggend fyn met die hande en gooi deur 'n sif. Druk soveel water as moontlik uit. Meng dit nou met Polyfilla en kouelym (gebruik die een met die donkergroen prop wat vinnig set of die blou prop wat waterdig is). Werk dit goed deur en pleister dit oor 'n vorm wat met kleefplastiek oorgetrek is. Plaas in die son om droog te word. Bring dit in die aand binnetoe en indien nodig, plaas die volgende dag verder in die son tot dit kurkdroog is. Verwyder van die vorm, verf binne en buite en versier met geplakte blaartjie, stokkies en/of skulpies. Gebruik as snoepery bakkies of vul met 'n geskenkie van jou keuse. 'n Serpie vir Ouma; koekies vir Oupa; 'n koekie seep vir Mamma; lekkers vir Boetatjie.

Laat ons maar eerlik wees: vakansiemense bring die gees van Kersfees met hulle saam hierheen. Ons verwelkom hulle en tree met ons beste voet vorentoe om hulle 'n stywe handdruk van verwelkoming en 'n gulle glimlag van gasvryheid te gee. Mag almal die pad hierheen in veiligheid aflê, geen bekommernis hê oor huise wat hul agtergelaat het nie en lekker kuier. Mag die terugreis ewe voorspoedig verloop en algaar met verfrissende passie hul dagtake in die nuwe jaar hervat.
Carien Badernhorst