We dedicate this week to our adorable and smartly dressed African Penguins. The 2013 Penguin Waddle started off this morning at 9:00 in Gansbaai, from the Gansbaai Tourism Bureau. The walk is a campaign to raise awareness about our jolly feathered friends that will ultimately lead to better protection of them and their habitats.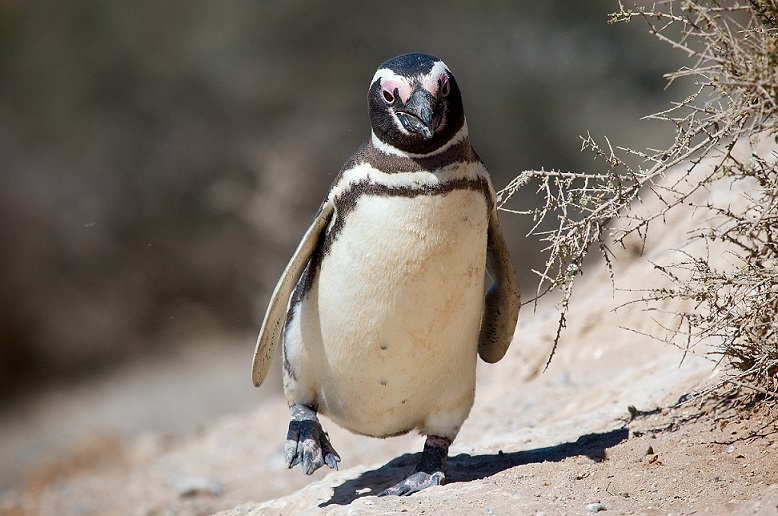 The African Penguin is the only penguin found in South Africa and they breed on islands all along our coasts. The nearby Dyer Island is one such island and is protected by the Dyer Island Conservation Trust (DICT). Many are dedicating their time and efforts to ensure the survival of these marine birds, as it has been predicted that there will be none left in the wild within the next 15 years.

Thus, this week everyone is invited to join the 2013 Penguin Waddle. The Waddle kicks off in Gansbaai on 22 April and ends in Simon's Town on 27 April. The week's schedule is as follows:

• Monday: Gansbaai Tourism Bureau at 9:00 – arrive in Stanford at 14:00
• Tuesday: Stanford Garage at 9:00 – arrive in Hermanus (Caltex Garage) at 14:00
• Wednesday: Hermanus (Windsor Hotel) at 9:00 – arrive at Arebella Hotel at 15:00
• Thursday: Arebella Hotel at 8:00 – arrive in Betty's Bay at 14:30
• Friday: Gordon's Bay (Bikini Beach) at 10:00 – arrive at Strand Beach at 11:00
• Saturday: Muizenberg (Surfer's Corner) at 9:00 – arrive in Simon's Town (Boulders Beach) at around 13:00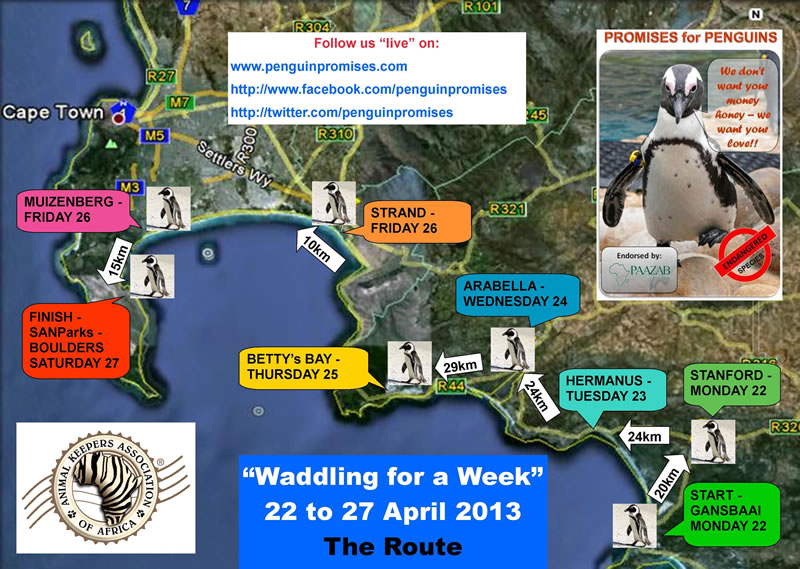 If you are not able to participate in any of the walks, virtual participation is also appreciated. You can follow and/or check in on the walks' progress on Facebook and Twitter.

The conservation of the endangered African Penguin is vital and can be helped in various ways. Choosing to reuse plastic bags and reduce the use of plastic products as they are made of oil, rather choose grain-fed chicken and get involved in coastal clean-ups. And of course, knowledge is power so please share this information with friends and family members. Small changes in our everyday lives can make all the difference to these chatty marine birds.

So join in the Waddle and let's show our support to our beloved African Penguin. Remember to wear black and white.