The latest tragedy to hit the world's shores is the large amount of baby Southern Right Whales that are washing up dead. The causes have scientists baffled and the residents of Argentina's Patagonian Coast helpless and heartbroken.

The latest number of baby Southern Rights turning up is the worst recorded so far by the Wildlife Conservation Society (WCS). Extensive tests on tissue samples show no evidence of infectious diseases or pollutants, yet the death toll seems to rise.



More than a decade after this strange phenomenon was first observed, the high number of deaths bring concern for the whale mothers and their calves. An estimated 605 dead Right Whales have been noted in the region since 2003 of which 538 were calves. Last year showed a death toll of 116 of which 113 were calves. The unknown causes are becoming more and more worrying as Southern Right Whales come to the peaceful bays around the Peninsula Valdes to give birth and raise their young. Mariano Sironi, scientific director of the Instituto de Conservacion de Ballenas and advisor to the Southern Right Whale Health Monitoring Program, of the opinion that we will only see a difference in the decline only in 10 years. Southern Rights have their first calves when they are 9 years of age, thus we will only really be able to see what happens in almost a decade from now.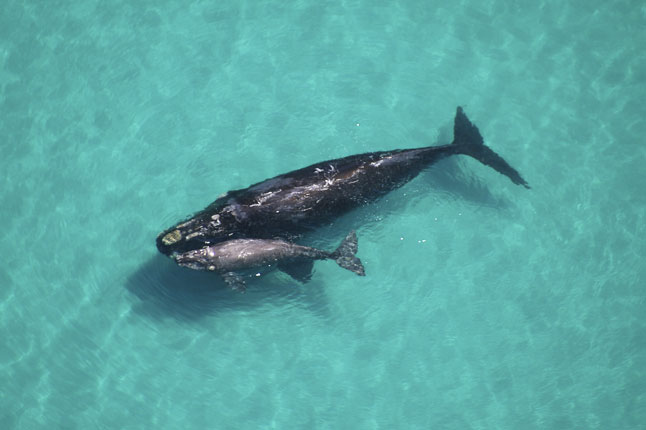 One notion is that the whales and their calves are being attacked by kelp gulls. The gulls have been known to land on the backs of these docile animals and start pecking away at their skin and blubber. The attacks can last for hours and leave the whales with deep lesions, which are particularly damaging to the 2 – 6 week old calves. The mothers are not excluded from the pain though, and it could not happen at a worse time. After calving, the mothers and calves stay in poor feeding areas while nursing. There is thus no food source to replenish fat stores which are used while trying to fend of the gulls and recover from the lesions.

Sironi and colleague Vicky Rowntree, co-director of the Monitoring Program were pleased to note that the Right Whale population was growing in numbers after the whaling industry nearly depleted their numbers. But now they fear there is reason to worry about the recovery. There are apparently only 500 Northern Right Whales left in the world.
We hope the deaths along with the attacks will soon stop and the populations of these gentle giants will continue to grow.