Uilenkraalsmond, Gansbaai, Western Cape, South Africa
The beautiful Uilenkraalsmond is home to one of the oldest beach resorts in the Western Cape.
Directions to Uilenkraalsmond are about 5 km from Gansbaai on the R43 en route to Pearly Beach. The outstretched estuary can be seen from the bridge and a more scenic setting and exquisite combination of endless beach fun and old fashioned holiday seaside accommodation in Gansbaai is hard to find!

Image: Sandy dunes and ocean view at Uilenkraalsmond
The history of Uilenkraalsmond Holiday Resort dates back over 200 years when local farmers would gather together at Christmas each year and spend the festive season camping in what is now the resorts caravan-park.

Image: Uilenkraalsmond estuary from the bridge
Many Gansbaai locals and holidaymakers have fond childhood memories of days gone when they, like generations before them, spent memorable summer holidays at the resort when the weather in Uilenkraalsmond is near perfect. Surrounded by endless white sand dunes and an epic beach stretching all the way from Franskraal to Pearly Beach, this area is a beehive of activity with plenty of things to do.

Image: Horse riding at Uilenkraalsmond estuary
The good vibes on the beach is contagious and visitors spontaneously form groups to participate in touch rugby, volleyball, tug-of-war and beach tennis. Lifeguards are on duty at the main swimming area and hikers and rock and beach anglers dot the shoreline as far as the eye can see.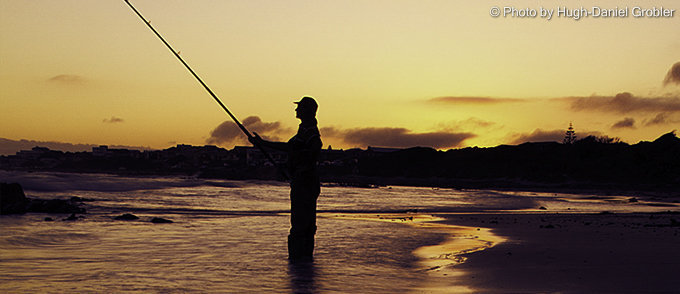 Image: Fishing in the Uilenkraalsmond lagoon
The outlet of the Uilkraalsmond River estuary on Franskraal beach is a wonderful, safe venue for swimming, water sports and collecting live crabs and pretty seashells. The estuary is formed by the joining of the Uilenkraal River and the Bushman's River which flow from the breathtaking valleys of Uilkraal and Baardskeerdersbos. Looking down from the Franskraal Mountains, one can see the whole system of creeks, ponds and streams coming together at the estuary and flowing into the sea.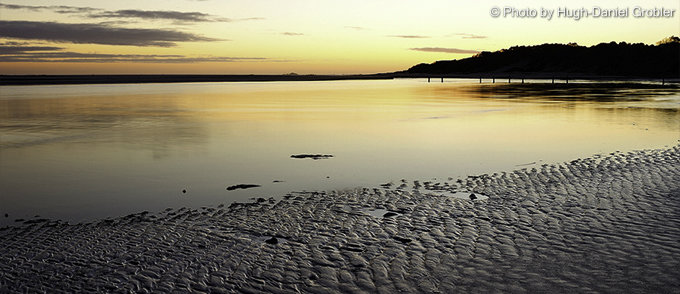 Image: Uilenkraalsmond estuary in the evening
The Uilenkraalsmond Holiday Resort offers a caravan park, campsites and beach cottages which are available for long and short term holiday rental. Local estate agents in Gansbaai can match you with your very own beach cabin as many are for sale. A supertube, putt-putt course, trampoline and a games room. The resort also has a pub where karaoke facilities, a huge TV screen to watch the latest sporting events and a pool table are available. Other amenities include a well-stocked grocery store and takeaway kiosk who cater to your daily needs.

Image: Uilenkraalsmond putt-putt (miniature golf)
If you are looking for things to do in Gansbaai then a trip to Uilenkraalsmond Holiday Resort is not to be missed
Popular Uilenkraalsmond information:
Uilenkraalsmond directions
Uilenkraalsmond weather
Uilenkraalsmond accommodation
Uilenkraalsmond places to eat
Uilenkraalsmond holiday resort
Popular Gansbaai information:
Gansbaai Village
Gansbaai accommodation
Beaches in Gansbaai
Real estate in Gansbaai
Gansbaai history
Gansbaai restaurants
Sharks in Gansbaai
Gansbaai shops
Gansbaai things to do
Gansbaai weather
Gansbaai directions